Chozen as one of the New Masters of Fantasy III by Epilogue.
---
Dimitri Patelis is working on the covers for FINAL DESTINATION the new comic book series by Zenescope Entertainment based on the popular horror films by New Line Cinema.


Cover Issue #1 "Spring Break - Cancun"
---

Started Designing a Series of Knives Swords & Daggers for the leading cutlery company Master Cutlery.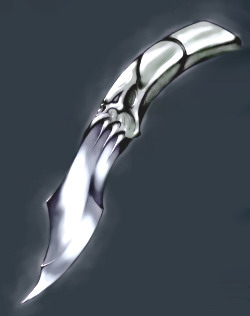 ---

Dimitris work is Going Mobile. SMS ARENA MOBILE will be launching The "SYMPTOMS" series for mobile wallpapers.


Surfboards with one of Dimitri's most popular images soon by Ocean Lifestyles.

---
POSTER COMPANY WIZARD & GENIUS will release for 2006 two new posters by Dimitri Patelis.


We are interested in collaborating with other creative media companies or agencies. If you offer representation, legal services or are in need of our services feel free to contact us.

Check Out our Licensing Section for more info
All Images Copyright ©2005 Dimitri Patelis